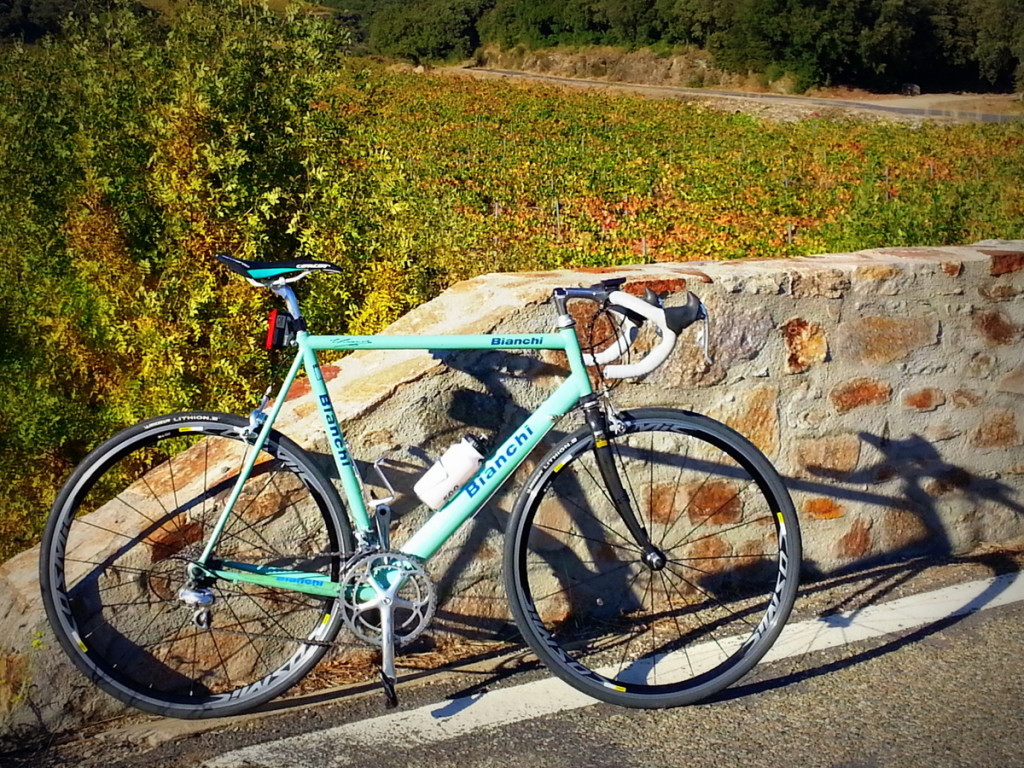 FAUGERES, FRANCE — What a long, wonderful marriage this has been, between me and my Bianchi.
It looks like a lot of time has gone by since I last updated this blog with the changes the Ti Megatube has undergone. In the past couple of seasons, since the bottom-bracket overhaul, I've made wholesale changes to it, replacing parts that felt tired, worn, or simply dated. A detailed summary:
Saddle. I replaced the titanium "Flite" saddle with a Selle San Marco Concor, which has a nice celeste touch to it. Also, the previous saddle always made me numb; this one hasn't eliminated that issue completely, but it's better. Weight-wise, it's much-of-a-muchness, and I don't consider weight so much anymore (though I'm not unaware or dismissive of weight either). But for style, this saddle is really pretty.
Pedals. On all my bikes I now run Shimano SPD-SL cleats. They're the least expensive option (over LOOK) and work well.
Bar tape. Grey – nice for a change, doesn't get as dirty as quickly as white, looks more interesting than black, and complements the celeste frame nicely. Maybe next time… pink? Why not?
Seatpost and Stem. Campagnolo seatpost in silver, a more traditional option than the previous black painted Synchros; similar with the arrival of a 3TTT Status quill stem to replace another black painted Synchros item. Frankly, the Synchros seatpost and stem were ugly (though quite high-quality, for their day). In this case, I'll take style over substance, as any performance gain would be marginal – and let's be honest, I'm not riding the TdF.
Wheels. The old and very grumbly Mavic Cosmic Elite wheels have been replaced with… newer Mavic Cosmic Elite wheels! I wasn't specifically looking for Mavics, and I'd have happily put a set of inexpensive, familiar, and super-reliable Campagnolo Khamsins, or even upgraded to fancier Campagnolo Zondas, if some had become available. But when a pristine set of nearly-new Cosmic Elites became available, I couldn't pass them up. In the meantime, I will replace the bearings in the old rear wheel and have a solid good-as-new winter set… for the Bianchi Sprint 76 in Dublin.
Cassette. I couldn't believe I found barely-used Dura-Ace 13-26T 8-speed cassette in a box in the shed. Happy days! A new 8-speed chain (KMC) was put on too.
I'll need to re-grease the bottom bracket again, and maybe replace it. I've got a Campagnolo Chorus BB in a box at home, ready to go. I've also got a full brake and shift cable set coming, as the current cables are very stretched.
Sure, I spend too much money (and possibly too much time) fiddling with my bikes, and not enough time riding them. However, I almost never have a mechanical break-down; and if I do, I know how to fix it.
Last, but not least: notice the big rear light? Not just any rear light: that is a Cycliq Fly6 rear-facing HD camera, with 6hrs of battery life (USB rechargeable) and 32GB of recording space. This is for "incident protection", just in case some driver gets too close and smashes me off the road. Priceless.