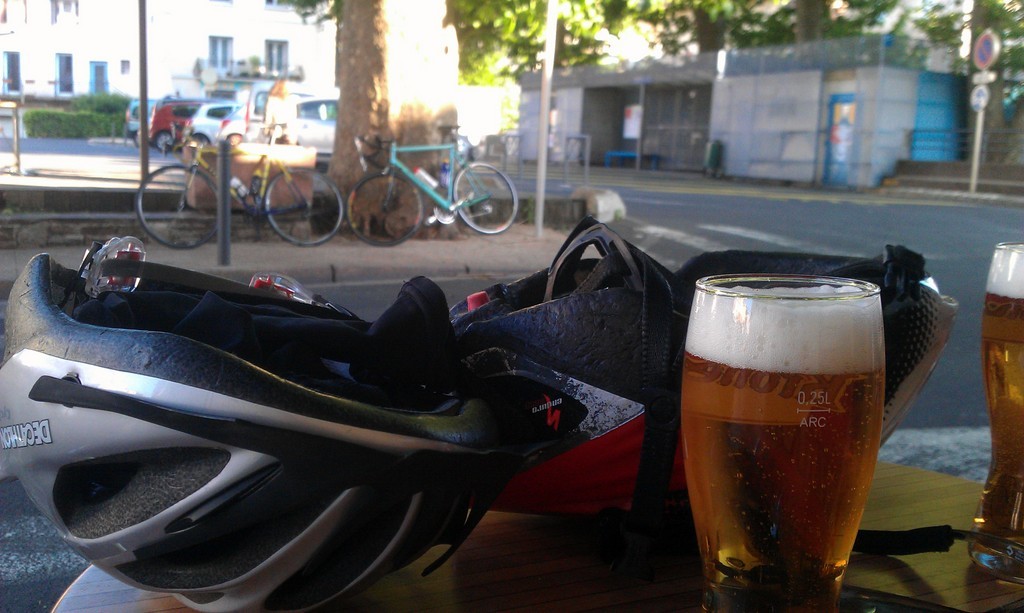 BÉDARIEUX, FRANCE — A quick beer won't help you go uphill faster, but it really tastes nice in the late afternoon after a long ride.
Simon "Crusher" Coulshaw, complaining of allergies and not being out on the bike for two weeks, dutifully led me up and down the hills west of Faugères. With more windy conditions that are a hallmark of the region, going north and west into the mountains is infinitely preferable than to the south and east where it is flat and exposed – because if you get caught on the wrong side of a headwind, 10kms can seem like 40.
Never able to stop poking at my bike, I went chasing after the mystery "creak" when pedaling out of the saddle. Being just on the downstroke of my right foot, I thought it could be a dry pedal or worn-out cleats, or maybe a dry chainring bolt. After replacing the bottom bracket last year, I was confident it was not the bottom bracket. But of course it could also be a headset bearing, or wheel bearing.
As the chainring bolts are the easiest to deal with, I removed (one at a time) each bolt and greased it. Having done the four outer bolts, I then greased the fifth one which is located on the inside of the crank arm and torqued it down… too much apparently (see the picture). They're just thin little aluminium bolts, and happily the designers have pre-drilled them for when you twist them apart, so they're very easy to extract!
A quick trip to the "Planet Velo" bike shop in Pézenas found me pleading in English to the French-speaking bike shop mechanic, who was shaking his head to indicate "no chance, mate". But after a heading off into the back of the shop and rummaging through a box of bolts, voilà!, we have a new Campagnolo inner chainring bolt! Saved by my persistent pleading and I was back on my way. I will not overtighten this bolt again.
Not only did this fix make the bike complete again, but it fixed the "creak" noise. (Thank god, I hate noises coming from my bike.) Not that I'd be standing and mashing the pedals too much, as I'm still trying to keep my  heartrate below 180bpm. But at least I can focus on the hill in front of me, instead of wondering where that noise is coming from; and when it's all over, I'm better able to relax and enjoy a quick beer before the final push up the hill to home.
And, of course, focusing on trying to keep up with Simon.